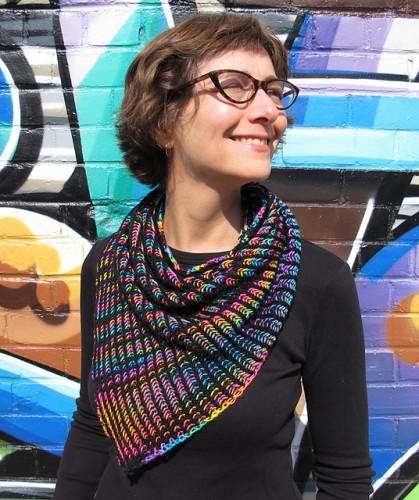 After the success of our previous knitalong where each crafter worked with yarn dyed by Megan of Lichen & Lace for a project of their choice, we've decided to base this one around another favourite artist of ours, the infinitely wise and wonderfully talented designer Kate Atherley.
In addition to being an extremely accomplished knitwear designer, Kate is in high demand as a knitting teacher throughout the English-speaking knitting community.  Just this spring and summer she has been invited to Interweave Yarn Fest in Colorado, Maryland Sheep & Wool Festival, and the Austin Texas Knit & Crochet Guild, to name a few.
As such, we count ourselves as very lucky to be one of few yarn stores that can claim as a regular teacher on our roster.  She can be found teaching at Yarns Untangled virtually every Tuesday and Thursday, and we are especially excited to announce that she will be joining us this Wednesday night (July 13th) for stitch night!  The puck-drop will be Friday July 15th, so this will be your chance to meet Kate, get some advice on which pattern would be best for you, or to pick her brain on any questions you might have for your chosen design(s), two days in advance of the beginning of the KAL.
Kate has generously set up a discount code on Ravelry.  Check the Ravelry thread for the code that gets you 30% off of any of her patterns from today until August 15th.  You can peruse through all of her designs on Ravelry here, but we'd like to take this moment to showcase some of our very favourites.
Always a crowd-pleaser, Asking for Flowers is a fingering weight, garter stitch shawl/scarf with a simple lace edging that is knit as-you-go.  It's simpler than it looks, an extremely rewarding knit, and great for anyone looking to try out lace chart reading for the first time.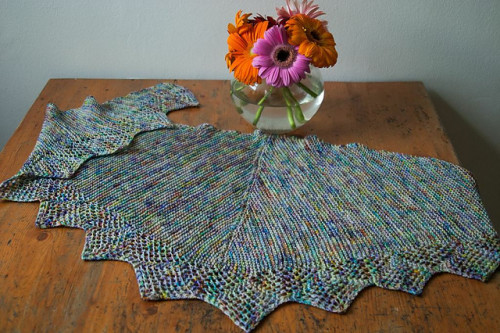 For those of you into cables, or looking to advance your skills, the Oswin the Impossible mitts are a joy to make.  They use one skein of DK weight yarn, suit any gender, and are a great way to show off a truly special hand-dyed yarn.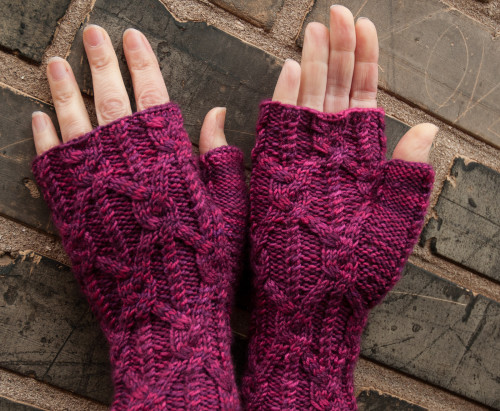 If you've visited the store in the past few months, you might have seen either Amelia's or Nicole's Wavedeck projects. Wavedeck is a half-pi shawl that is quite a bit less complicated than it looks, we promise.  Pi Shawls are a concept initially developed by knitting pioneer Elizabeth Zimmerman, and although it's based on the mathematical concept of pi, no math is required to put this together (although if anyone wants to geek out, we are ready and waiting).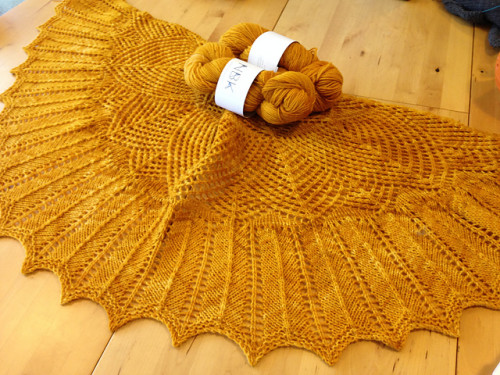 And of course, many of you will know that Kate is truly a sock guru.  Her sock knitting classes are some of our most popular workshops, and sock patterns make up almost 40% of her published work.  These designs range from the most basic (Basic Ribbed Socks)…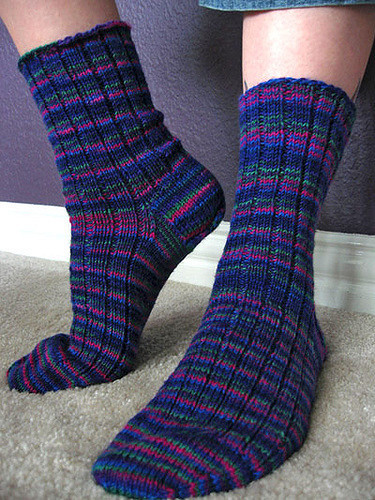 …to the most fancy (Lindisfarne).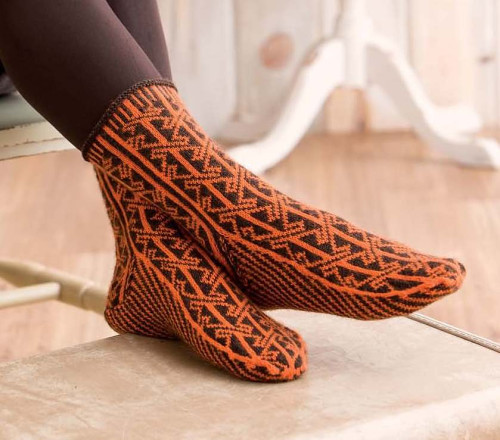 Stay tuned to our Facebook and Twitter feeds for more spotlights on Kate's patterns as a countdown to the start of the KAL.
Prizes:
Most individual projects completed (two socks count as one project) – bang out as many things as you can in two months!  Single skein projects count, so this is a great way to plow through your queue. Prize will be a $15 gift card for Yarns Untangled!
Biggest Mess Up/Lesson Learned – tell us your pain!  Every new project is a learning experience, and it's always nice to hear about personal growth. 😉  Prize is a coupon for a private lesson with either Brenna or Amelia at Yarns Untangled.
Most ingenious pattern alteration – show us your knit hacks!  A little bit of shaping, an extra big shawl, a special sock toe, bonus mitten fingers, or whatever your heart desires, other knitters can always learn from your changes and your experience.  Prize is a digital copy of Kate's book Pattern Writing for Knit Designers.
Special Crochet Prize – Since Kate's patterns are all written for knitters, we'll be offering a special prize for anyone who tackles the challenge of transcribing one of her designs into crochet!  Prize is a $10 gift card for Yarns Untangled.
Of course the Random Draw, two winners this time! – each will be awarded a collection of beautiful yarn from Kate's stash (she gets great stuff sent to her in the mail, this is some primo promo yarn!)
The Knitty Gritty, or "The Rules"
(If this happens to be the first you're hearing of the term "Knitalong" (or knit-a-long, or knit-along or KAL), we refer you to a short write up from our previous undertaking.)
Important Dates: starts July 15th, ends September 15th
Wednesday July 13th – Kate joins us for Stitch Night
As always, our Drop-In Clinic on Sundays is free to anyone participating in the KAL, so if a pattern seems like a bit of a challenge, we are here to help.
Participation: In order to be considered for entry, crafters must either join the Ravelry thread or post on Instagram (#kaal) and announce which pattern and yarn you'll be using. Once the project(s) is/are finished, you must post at least one picture of it. If you'd rather, come see us in person and we'll get a snap of it for you and help you to post it on Ravelry.
If you don't have a Ravelry account, send us a quick email at info @ yarnsuntangled.com announcing your intention to participate. We'll make sure you're kept in the loop
Hashtag: #kaal (use this wherever good hashtags are accepted)
Pattern: the project must be following a pattern designed by Kate, alterations and adjustments are of course just fine.  All patterns are 30 % off on Ravelry for KAL participants using the code from the Ravelry thread.  Code is active as of today until August 15th.
Yarn: Crafters must use yarn purchased from Yarns Untangled, but it doesn't need to have been purchased during the time of the KAL.
That's it!  If you have any questions, shoot us an email at info @ yarnsuntangled.com, give us a call at (416) 603-2338, or drop in and see us in person!  
And just for good measure, we made this: