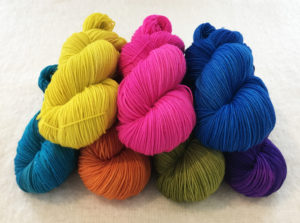 Mineville Sock, #2909
Man of you who have shopped with us over the past two years know that Mineville Wool Project yarns are some of our favourite Canadian hand-dyeds ever.  The combination of carefully chosen bases, well-practiced skill in yarn dyeing, and a flare for creative experimentation results in an exciting, unique product (and the price isn't so bad-looking either!).  Since Mineville are able to get their bases often at a steep discount, we are able to pass that discount on to you with a yarn that is often 2/3rds the price of its closest competitor.
Right now we are flush with a brightly coloured, densely packed sock yarn in 28 different colourways, we're calling it the Candy Series.  While Sock #2909 is moving fast, we still have sweater quantities in many of the colours, and some fantastic self-striping sock colourways to boot.  Since it is just a bit thicker than your average sock yarn, #2909 knits up a bit faster, which made it a very popular choice for Christmas knitting this year.  While quantities last, grab a few skeins of this gem.  And remember, all Mineville colourways are one of a kind, so make sure to pick up all you need for your project!