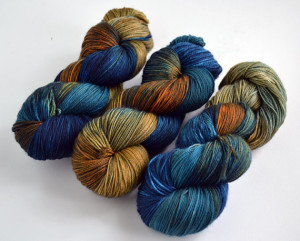 Riverside Studios Merino Nylon Sock
Riverside Studios was the very first dyer we contacted, even before we opened Yarns Untangled last October 2015.  Kathryn's unbelievable eye for colour and consistency in dyeing, not to mention her wonderful personality and professionalism made her an easy choice for our first indie artist.  The Merino Nylon Sock continues to be one of our best-selling yarns across the board, and we've just brought in a whole bunch of new colours.  Check out some of the most popular colours in the pictures below, and then come in and meet your favourites!
Pics all courtesy of Riverside Studios.