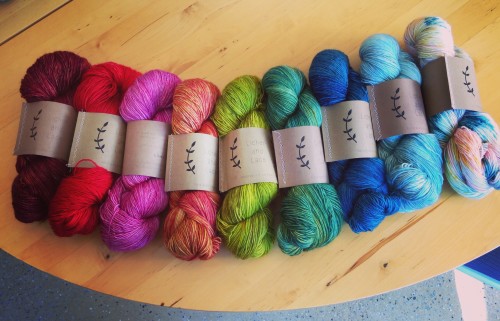 It's time to announce our second knit along!  Thanks to all the knitters and crocheters who took part in 2015's Lanesplitter Skirt KAL (great pictures and details on many of the projects can be seen on the Ravelry thread).  This time we've decided to take a slightly different tack on the traditional pattern-based KAL, so instead of working on the same pattern as a group, we are opening the doors of possibility wide!  Inspired by the unprecedentedly beautiful yarns of Lichen and Lace, we would like to invite each and every one of you to join us in working on a project of your choice in one (or more!) of Megan Ingman's stunning yarns.  Two weeks from the publishing date of this post, we will be placing a massive custom order of Lichen and Lace yarn.  Megan has agreed to dye batches as small as single skeins, so there are no limits on the type of project you can do.  We're also pleased to offer a 10% discount on any special orders of four skeins or more, regardless of base or colourway.
But first, what is a knit along (or "KAL" for short)?  A knit along is, loosely, a period of time where a group of knitters (and crocheters!) join together to work on a similar project, usually on the same pattern, benefiting from each other's experience, enthusiasm, and learning from each other's mistakes and triumphs.  Perhaps Larissa and Martin John Brown said it best in their book knit along: Celebrating the Tradition of Knitting Together when they said, "for some knit alongs, the purpose is…part friendship and part collaboration, friendly competion, inspiration, learning, and giving."  In the case of our KALs, we will set a start and end date for your project, and once the end date has passed, we'll award a few special prizes to lucky crafters who win in specific categories (see below for the knitty gritty).  Although the prizes are a fun extra incentive, the point is to learn something new, tackle a project you've been eyeing for ages, meet new people, and try out some beautiful new yarn.  Yarns Untangled KALs come with the offer of extra help on Sunday afternoons.  Any and all KAL participants are welcome to come to our drop-in clinic on Sundays from 4-7pm, free of charge.  We will use this time slot as an informal meeting time for KALers to come, sit, chat about their project, meet each other, and ask any questions they might have about their project.
All right, so now that we've got that explained, let's move on to the important part: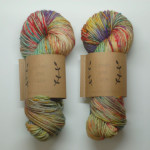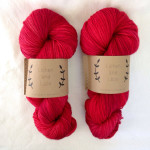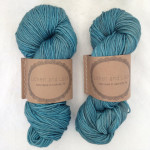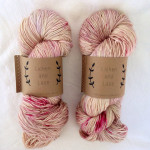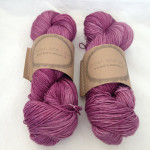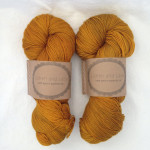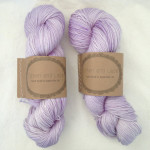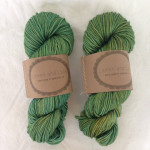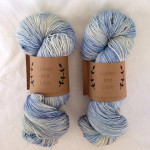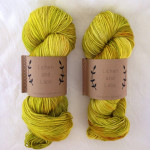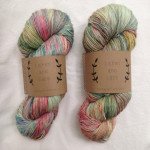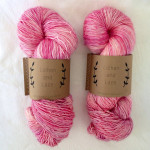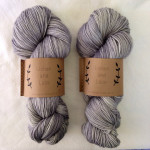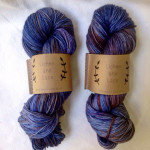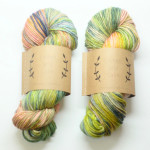 Meet the Yarn
Megan does her magic with four different yarn bases.  Those of you who are frequent shoppers will recognise the single ply fingering and the worsted weight; one major benefit of this KAL is that it will give you a chance to try out something from the other two bases.  Each skein comes with a whopping 115 grams – 15% more than the average skein.  Just some of the gorgeous colourways are seen here, but to browse the full compliment, visit: Lichenandlace.com and make sure you see all three pages!
1ply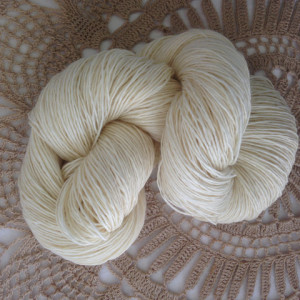 Superwash Merino Fingering Weight
Megan says, "This yarn is a 1ply fingering weight with 475 yards in 115 grams. It is 100% Superwash Merino and is a great yarn for shawls. I love the organic looking twist of this single ply. Very soft, this yarn is the best for shawls, but also a great choice for scarves, cowls, and other accessories."
Suggested patterns
Knit: Paulie by Isabell Kraemer
The large sections of stockinette in this sweater give the
knitter an opportunity to show off the beauty of this plush yarn, and the stripes allow us to choose two complime
ntary colour from the many potential combinations of Megan's colourways.  Pattern requires 4-5 skeins.
Crochet: Diamonds in the Rough by Michael Snow
This pattern features some beautiful textures that would be accentuated by the single-ply fabric.  Pattern requires only one skein!
80/20 Sock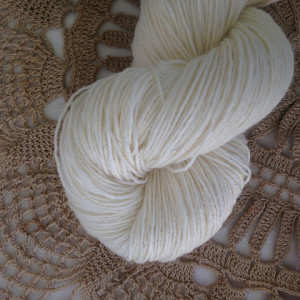 Megan says, "This yarn is a perfect fingering weight with 420 yards in 115 grams. It is strong with 20% nylon, and totally machine washable with 80% super wash merino. A very soft yarn, perfect for socks of course, but also shawls, colour work, and baby knits."
Suggested Patterns
Knit: Basic Ribbed Socks by Kate Atherley
Now's your chance to try out socks for the first time!  Allow these brilliant colourways to inspire you.  We recommend Kate's clear and instructive pattern for first-time sock knitters, and if you're feeling trepidatious, join our Top-Down Socks class with Kate on April 7th and 14th.  10% off the class for participants of the Lichen and Lace KAL!  As usual, one skein of sock yarn is enough for a pair that fits most adult-sized feet.
Crochet: Pacific Rim Shawl by Esther Chandler
Esther Chandler's pattern features some fun stripey play, and offers the opportunity for experimentation with edging.  Chandler gives some interesting pointers and advice on how to alter this shawl for a larger or more different shape.  Factoring in potential alterations, this shawl could use either 1 or 2 skeins of each chosen colour.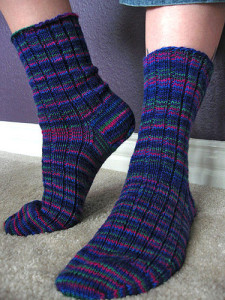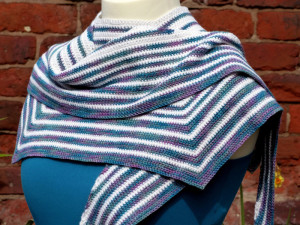 4ply Superwash Merino Worsted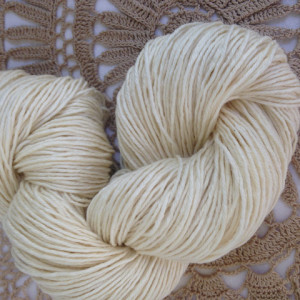 Megan says, "This yarn is a true worsted weight with 200 yards in 115 grams. It is well balanced with a 4 ply construction. 100% Superwash Merino. A very easy knitting yarn with crisp stitch definition. Perfect for sweaters, mittens, hats, and so much more."
Suggested Patterns
Knit: Flax by tincanknits

Flax has been extremely popular ever since it was published in 2003, but recently it's had a resurgence amongst some of the Yarns Untangled regulars.  This is likely due to its easy construction, clear instruction, and wide range of sizes available, not to mention the unisex design.  Whether it be your first or 100th sweater, this pattern is not to be skipped.  Depending on your chosen size, Flax requires anywhere from 2 to 9 skeins.
Crochet: Shanty Hat by Robin Devine
Last year on a Valentine's craftathon, this was Amelia's favourite pattern.  She made two of them during the marathon, and it was her first ever successful crocheted hat.  Cute, simple, and easy to follow, this pattern is a lot of fun and works up quickly.  Choose from one of four sizes, but even the largest uses less than one skein.
80/20 Bulky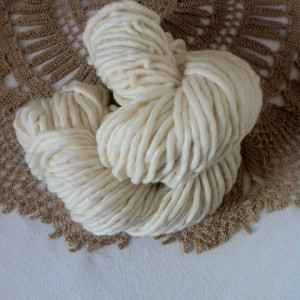 Megan says, "Your new favourite bulky yarn.  One skein has 76 yards and 100 grams – enough to knit a hat from one.  This yarn is a single ply of 80% superwash merino and 20% nylon making it super soft and squishy.  Best for making hats, cowls, and scarves.  Knits up super quick on size 15 (10mm) needles!"
Suggested Patterns
Knit: Honey Stitch Cowl by Davine Choy
This "classic yet modern" design is a perfect combination with Lichen and Lace single ply bulky.  The 3D twists will be brought to life by the plush softness of the yarn.  Suitable for man, women, or child, it would use 4-5 skeins, depending on how large you'd like it to be.

Crochet: Big Stitch Hat & Cowl by Patons
Chunky and delicious, these two patterns are a great use of this sumptuous bulky yarn.  Make the hat with one skein of each colour, the cowl with 2 skeins of one and 1 of another, or the whole set together.  Big is in!

Prizes 
Like all good KAL hosts, we are offering prizes in the below categories.
Best original design – must be completely from your own head!  We'll be happy to offer pattern editing and help with Ravelry publishing once you're done.  Prize: a digital copy of Kate Atherley's Pattern Writing for Knit Designers.
Most individual projects completed – since single skein orders are possible, this is an easy prize to win!  Remember, socks only count as one project 😉  Prize: a gift card for $25 to be spent at your leisure at YU.
Best lesson learned – everyone wants to hear about your progress!  One of the best things about sharing your work with others is learning from each others mistakes and experiments.  Use the Ravelry thread to share your thoughts, feelings, and breakthroughs.  Prize: a gift certificate for $50 off a class at YU.
Random draw – and of course, to throw chance into the mix, we will choose one random entry from all of the finished projects to receive this prize: some beautiful handspun yarn from Amelia and Brenna.
The Knitty Gritty (LOLZ)
From the date of publishing this post (February 22nd, 2016), you have two weeks to place your KAL order with us.  Use Ravelry, email (info @ yarnsuntangled.com), phone (416 603-2338), or see us in person.
We require either a 50% deposit or a credit card number in order to secure your order.  Of course, you may pay for the entire thing up front, if you wish.
A 10% discount will be given on any special order of four skeins or more, regardless of base or colourway.  Please note that this discount is only applicable to yarn that is part of the special order, and not to yarn that is on the shelves.
The KAL begins on the day that our order of yarn arrives from Sackville.  We expect it approximately two months (or less) after the the day we place the order.  Don't worry, we'll make a fuss online and in person to make sure you know it has arrived and is beginning.
In order to be considered for entry, crafters must join the Ravelry thread and announce which yarn you've ordered.  Once the project(s) is/are finished, you must post at least one picture of it.  If you'd rather, come see us in person and we'll get a snap of it for you!
If you don't have a Ravelry account, send us a quick email at info @ yarnsuntangled.com announcing your intention to participate.  We'll make sure you're kept in the loop.
And again, so that it's here too, the colourways can bee seen here, and the bases can be seen here.
That should do it for now.  Stay tuned to the Ravelry thread for updates and to check out everyone's great ideas and progress.  Another blog post announcing the official start will follow soon!
-Amelia and Brenna