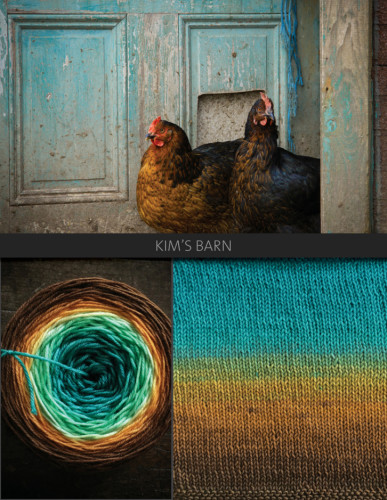 We are bursting with excitement to finally be able to announce that we are now carrying Blue Brick ombre yarns!!!  Hand-dyed right here in downtown Toronto (15 minutes from us!), these gradients are not to be believed.  Each skein seamlessly transitions through at least 3 colours over the course of 437 yards, giving you enough material to make a beautiful shawl.
Dyeing yarn in a slow gradient like these is an incredibly labour-intensive and complicated process, but Shireen and her husband Tito are more than capable of rising to the challenge.  Shireen began her colourful career as a photographer, and her work can be seen in a variety of places including National Geographic and in an installation in Toronto's PATH system.  Each of her colourways is in fact inspired by a particular photograph of hers, and she beautifully presents the inspiration and yarn together in one photograph, several of which are seen below.  As if that weren't enough, each skein purchased includes your very own copy of the inspirational photo!
Until today, The Blue Brick yarn was only available via their online store.  We are terribly proud to be the only brick and mortar store in the entire world where you can see her yarn in person (for now!).  It has been here for about 2 hours and is already leaving the shelves, so get in quick!