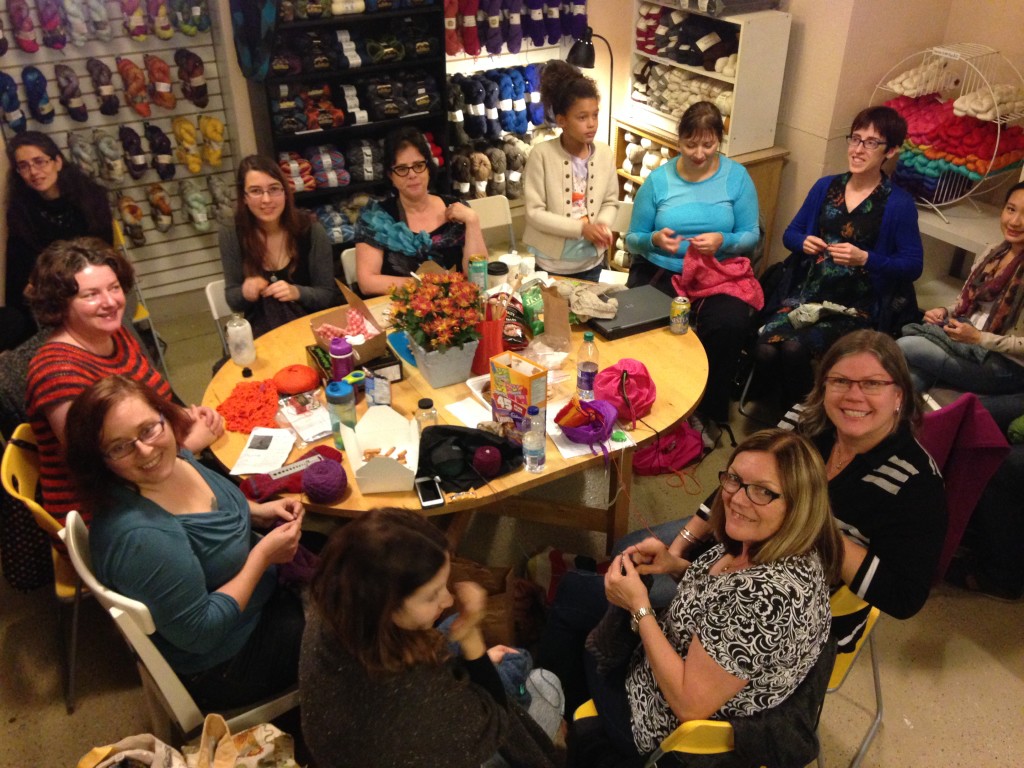 Throughout this process, one of the first questions that almost everyone asked us was something along the lines of, "What made you decide to open your own store?"  That's of course not quite what they mean; some of them mean, "What on earth do you think you're doing, in this economy?" or "That's going to be a lot of responsibility, are you sure you're ready for it?"
Speaking for myself, it never really seemed necessary to me to put into words why we were doing this.  To me, it was obvious: for the yarn!  What knitter or crocheter hasn't admitted to themselves that they have enough yarn to stock an entire shop?  By owning our own store, we would be able to buy exponentially more yarn than ever before, and obviously there isn't anything that could go wrong with that.
So far, the benefits of being a professional yarn buyer have proven to be better than even I could have imagined.  We've stocked our shelves with goodies from so many of our favourite dyers (Riverside Studios, NBK, Mineville, Caitlin Ffrench, Malabrigo), and we have even more on the way (Rhichard Devrieze, Lichen and Lace, Indigo Dragonfly, and more).  Not to mention the awesome factory-produced yarns we've got, such as Cascade, Lang, Borgo de' Pazzi, Mirasol, Noro, and the list goes on.  I get to spend my days surrounded by colour and texture and softness, and it's wonderful.
But after all of this, I have something I have to confess.  I don't think that it's really for the yarn.  Don't get me wrong, the yarn is awesome, but after being open for a little over a month, it isn't the yarn that greets me every day with a smile and a hug.  It isn't the yarn that spent an entire weekend cleaning, plastering, sanding, and painting the store.  It isn't the yarn that got in the truck with us to move furniture in from all across the city.  It isn't the yarn who donated coffee machines, plates, cutlery, shelving, cups, and a kettle to get us operational in the kitchen.  And it isn't the yarn who designed our logo, took our photos, built our website, stored furniture in their living for a month, and worked tirelessly to make sure that we weren't alone in this set up process.
As I write this, I'm sitting at a Wednesday evening stitch night surrounded by new friends and old, men and women, each with a set of needles or hook in hand, and each creating a beautiful thing.  The chatter is warm, kind, friendly (and usually pretty informative!), and I feel completely safe and at peace.  As people come and go, there are loud greetings, catching up, meeting new people, learning new skills, and generally being bad influences on each other.  As I write this, I'm realising that it truly isn't for the yarn at all that we did this, but that it's for this, for the warmth, the kindness, the community.
So I guess what I'm trying to say is, the more I think about it, what made us decide to open our own yarn store was that we needed to make sure we had a home where amazing people and beautiful yarn can come together.  Thank you to each and every one of you who helped us get set up, and thanks in advance to those who are planning on coming to see us soon.  We can't wait to meet you!
-Amelia