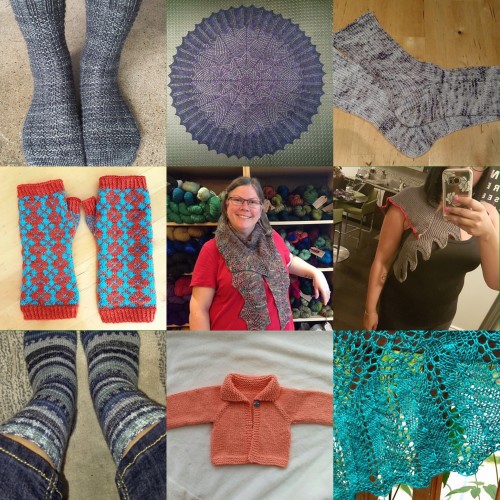 by Nicole Tavares and Amelia Lyon
Ding! Ding! Ding! Our Kate Atherly Knit Along officially came to a close this week. Kate is one of our favourite teachers, and her patterns sparked a great deal of creativity over the past two months. With two hundred and fifty designs to choose from – anything was possible, and at least 30 of you glorious knitters and crocheters jumped in with both feet.  We are so pleased and impressed with every WIP and FO we've seen throughout this process, so congrats to everyone who participated, regardless of whether you made it past the finish line in time, or not!
Our collected finished projects covered baby sweaters, shawls, mitts, and of course – SOCKS! Kate is very often referred to as "The Sock Guru," and the name is very very well-earned.  Out of all of her published patterns, virtually half of them are for socks, and the variation therein is so inspiring; from the plain ol' top-down sock, to some of the fanciest colourwork and cablework out there, Kate's socks are our go-tos whenever it's time to keep our tootsies warm.
One of the best parts about knit-a-longs is watching crafters expand their skills and this one was no exception. We had a few people attempt their first ever pair of socks, while others went for a new method: two at a time socks.  Congrats to Jen C, Karen, Rachel, Ni, Jen H, and Annabel for tackling this tricky challenge this summer, we loved watching your progress.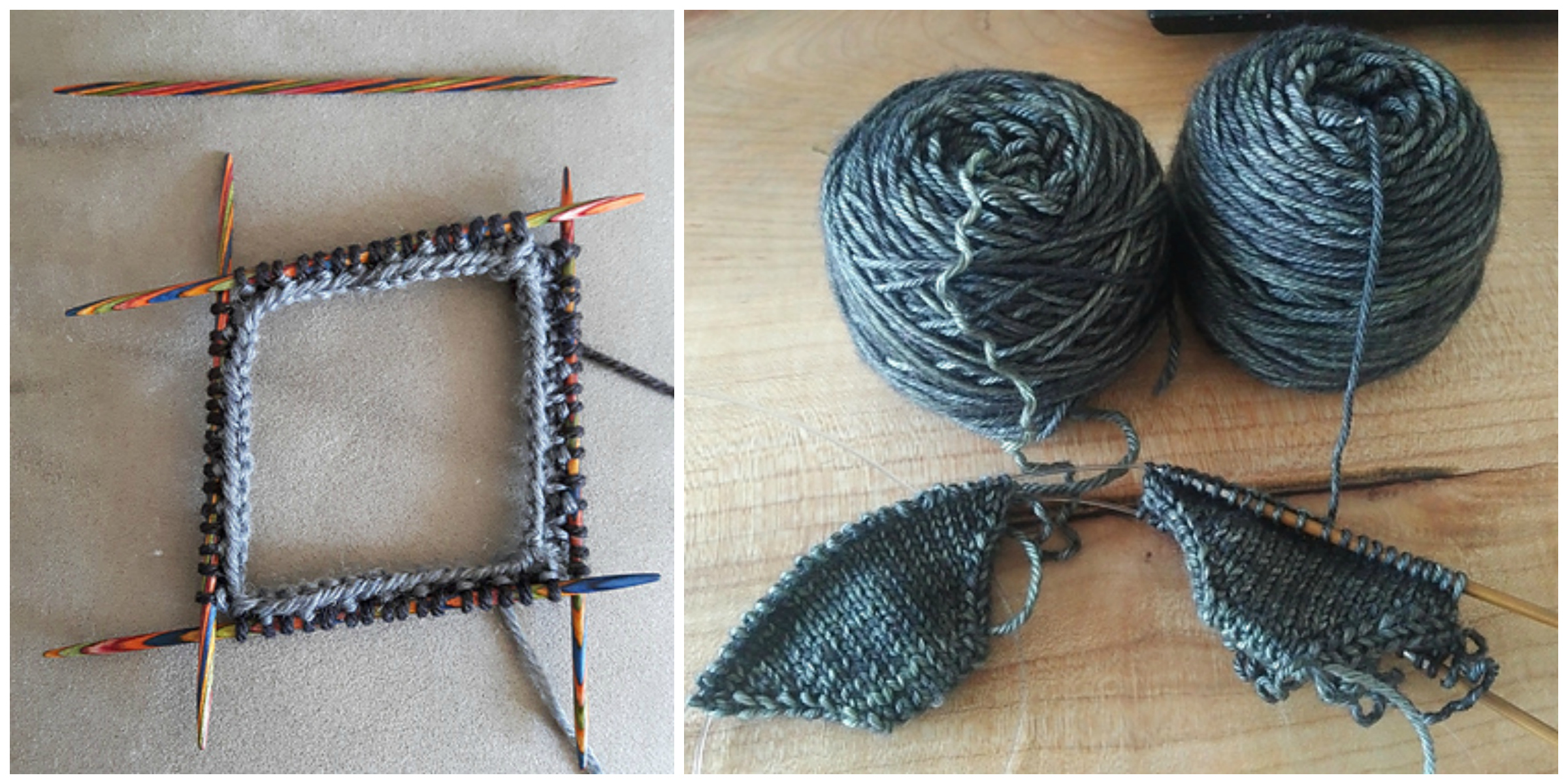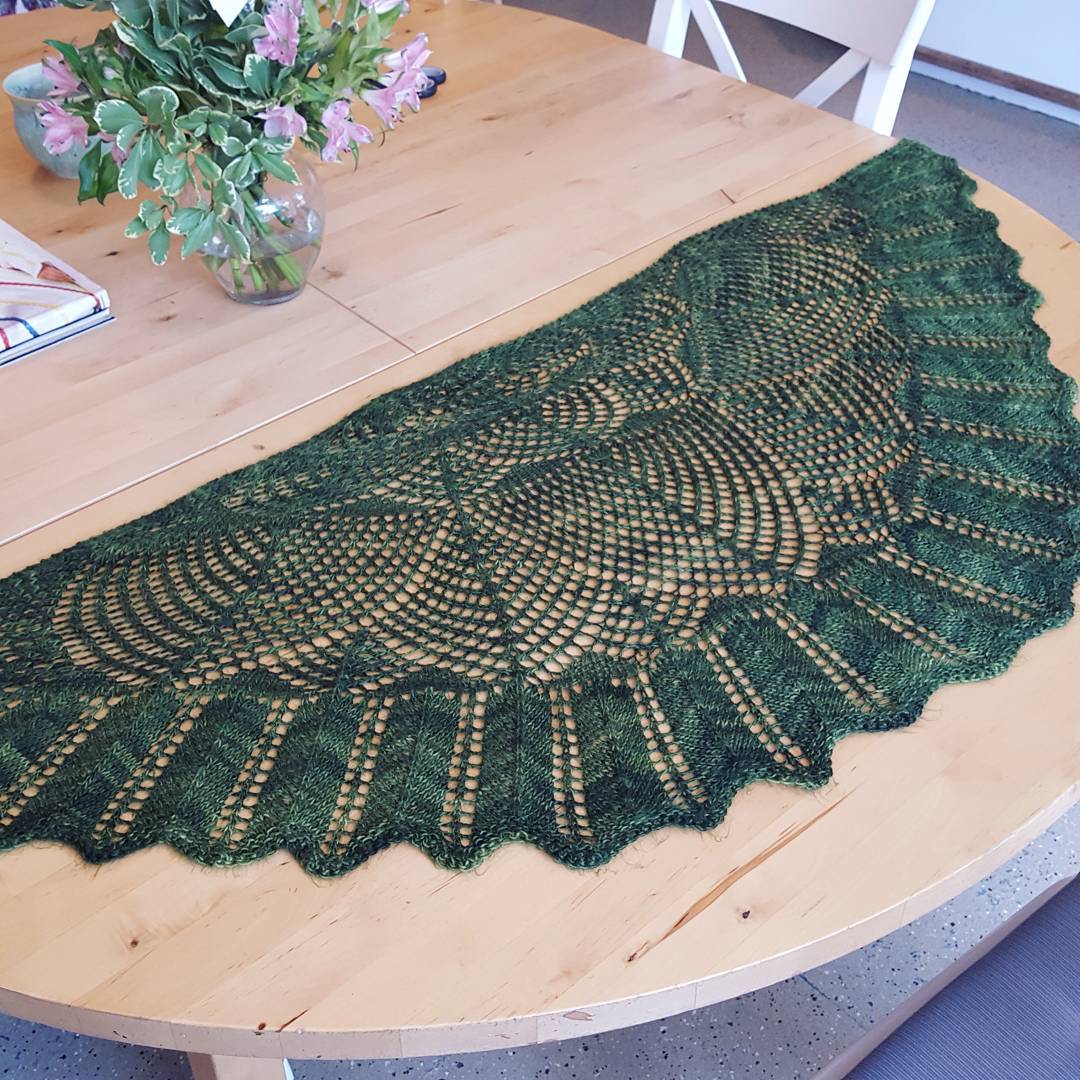 The Wavedeck Pi Shawl was a very popular choice. This half pi shawl by Kate paired perfectly with two skeins of our Mineville DK and it's tiered lace pattern is simpler than it first appears. With Pi shawls the increases aren't worked every row, instead the stitch count is doubled periodically in order to achieve the circular shape. Don't worry if math isn't your thing – the pattern has done it for you!
This pattern is a half pi shawl, meaning it's a half circle instead of a full one. As Kate herself says in the pattern, "quicker to knit and easier to wear!"
Our sample in the shop offered lots of inspiration for those looking to make their own.
With dozens of gorgeous mineville DK colours to choose from, little Wavedecks started appearing all over the place in blues and greens.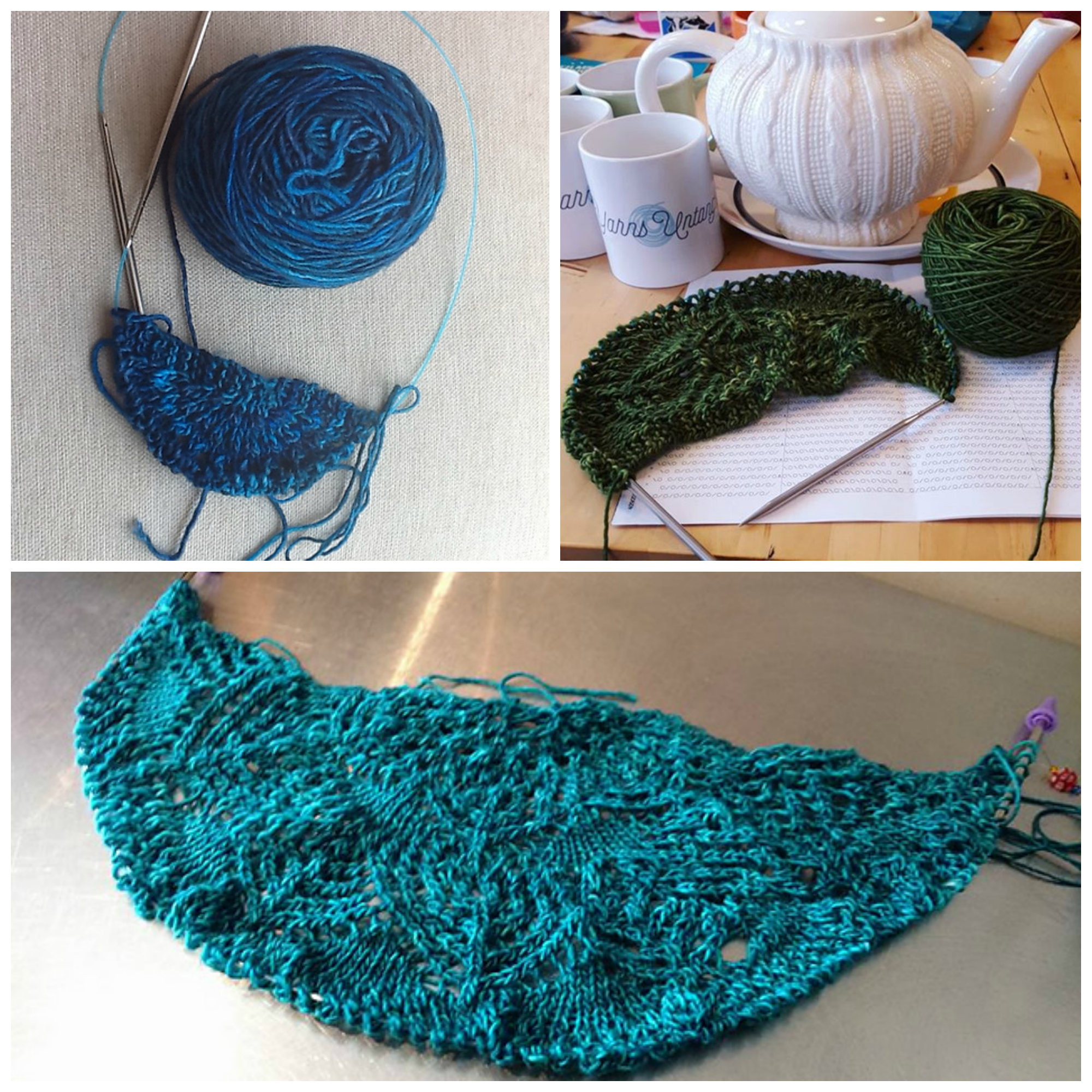 Along with the wavedeck shawls came a parade of socks in all shapes and sizes, from the most basic cuff down patterns to intricate colourwork.  Seen here are just a few of the sock FOs that crossed our path this month.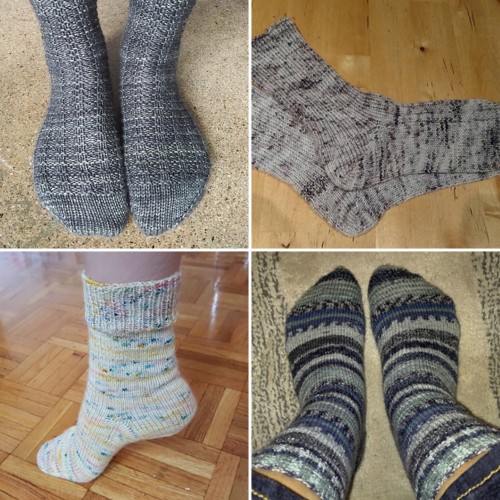 Still other knitters tackled chart reading, colourwork, brioche and more. In the end, we had more than 25 projects finished (or almost finished…).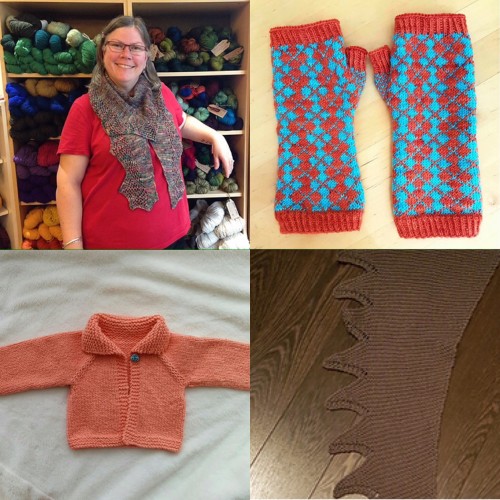 No KAL is complete without a celebration at the end and some prizes. Without further ado, the winners are:
Most Individual Projects Completed
Goes to Rachel for finishing a Wavedeck shawl AND a pair of socks!  If you haven't met Rachel, she started out as a loom knitter and has only recently moved into working with needle-knitting as well.  Obviously she's rocking it!  Her prize is a $15 gift card for Yarns Untangled.
Biggest Mess Up/Lesson Learned
Goes to Cheryl for her work on the Asking for Flowers shawl!  This pattern was a step up for her since it offers the instructions for the lace in chart form, and there are quite a few short rows used to turn around the centre point of the left-to-right shawl.  With a wee bit of help from Brenna, Cheryl was able to turn out this just gorgeous shawl using three skeins of Rhichard Devrieze Peppino she picked up at the summer trunk show, and she is very pleased with it.  So are we!  Her prize is a coupon for a private lesson with either Brenna or Amelia whenever she wants!  Can't wait to see what she learned next.
Most ingenious pattern alteration: 
Goes to Francesca for her work on the circular Wavedeck.  This pattern was by far the most popular one throughout this KAL, but Francesca took it up a level when she turned the half-pi into a full-pi!  She used two skeins of Riverside Studios in "Midnight;" these pics don't do it justice, it has to be seen in person to be full appreciated.  Way to go Francesca!  Her prize is a digital copy of Kate's amazing book, Pattern Writing for Knitwear Designers.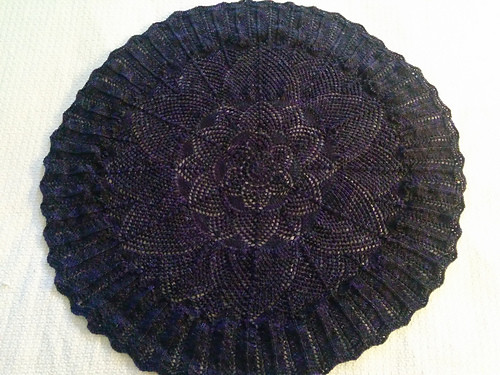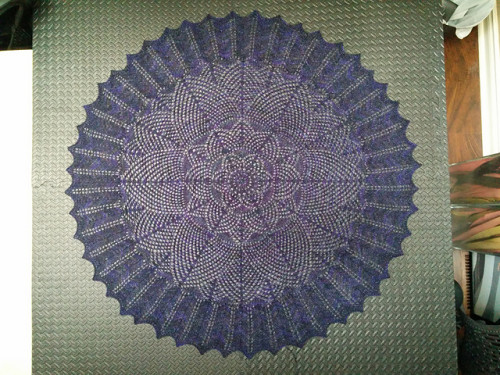 Of course the Random Draw! The two winners of our draw were awarded a collection of beautiful yarn from Kate's stash. Lucky lucky knitters!  Congratulations to Claire and Vidya who made a Wavedeck and a One-Piece Baby Sweater respectively!
Thanks to everyone who participated, you guys all rock.  As we head into the Fall season, we have lots coming up in terms of classes, trunk shows, events, brand new yarns, and a selection of old favourites. Check us out on the social media platform of your choice (Facebook, Twitter, Instagram) or sign up for our mailing list to be kept in the loop. Happy Stitching!