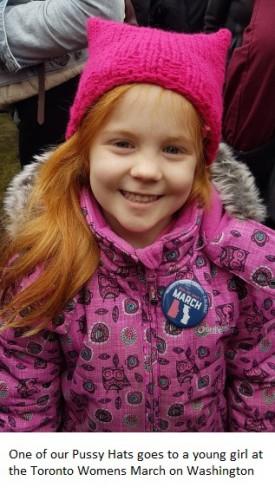 As many of you have noticed, our last few weeks have been completely consumed by making dozens and dozens of pink hats with ears, called "Pussy Hats". The Pussy Hat Project was started by Krista Suh and Jayna Zweiman in California. The hats are intended to be a symbol for the Women's March on Washington. We thought this was a lovely way for knitters in Canada to offer support for Women fighting for their legal rights in the United States, so we got on board!
We volunteered to receive and distribute donated Pussy hats to those going to marches. The experience was really heartwarming!
We sent close to two dozen hand knit/crocheted hats to the Washington March. We also received many more than that in the days following, and we estimate that more than 35 hats passed through our hands and on to the marchers in Toronto. The Toronto March had a turnout of over 60,000
people ready to make noise and be heard, and there we saw hundreds more pink hats – good job, Toronto!  Although there is so much more we can all do to fight for intersectional women's rights, it starts with getting together and standing as a community. It will continue with us being politically active, and refusing to stay silent about what matters to us!
Brenna went to the Toronto March and really enjoyed handing out the last of the donated hats that weren't claimed. A few child size hats went to some fierce little feminists, and the adult hats were much appreciated by their recipients too.
Were you unable to make it to the March but want to help?
We are currently taking donations for Sistering – a woman's shelter in downtown Toronto. They work with women from all walks of life who are homeless, underhoused, low income or marginalized and are looking for a safe and welcoming place to go during the day, as well as offering employment help, food support through their drop-in program, harm reduction and so much more. If a woman's right to access health care and compassion is important to you, this is a really great organization to support. Read more about them on their website. Please contact us at the store if you would like to donate or share your own story about the Womens March on Washington. Check out this sweet one from Karen who posted this on our Facebook wall today: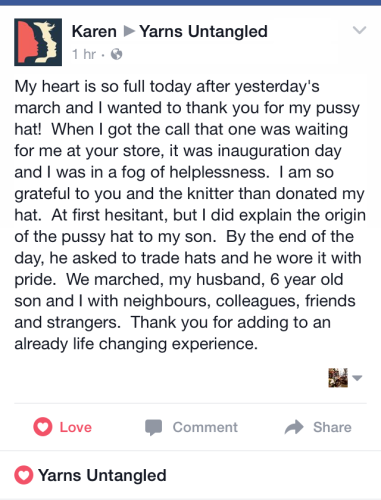 Lastly a big THANK YOU To every stitcher who knitted, crocheted, or sewed a pink hat to show that you stand with all other women to protect and fight for their rights! We couldn't have shared nearly so much cheer without you!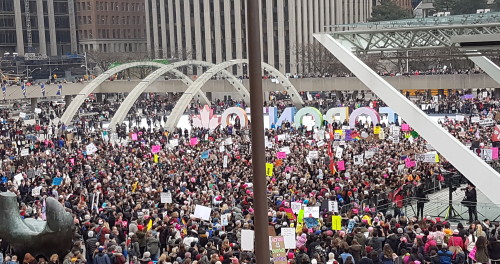 Big thanks as well, to May Warren for including us in this Metro News article, to Alexa Battler for this Toronto Observer article, and to CBC As It Happens for their interview with Amelia last Thursday. It makes us feel famous!