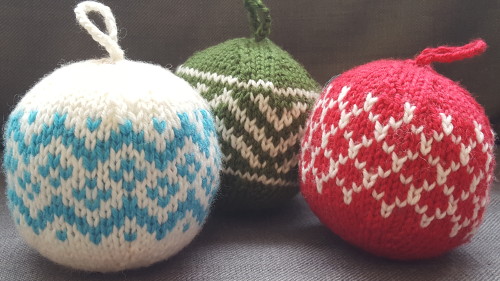 For our first official foray into kits, we're happy to announce that these sweet little numbers are now available in store.  There's something especially cozy about a knitted tree ornament, and these are some of the coziest.  The kit features 11 possible designs (8 easy charts, and 3 more challenging ones), all from the mind of knitting guru Kate Atherley and they are currently only available as part of this collection.
Since most of the charts are relatively uncomplicated, this kit is suited to any knitter comfortable with knitting in the round and with basic colourwork.  However, if you're feeling a little tentative but would still like to knit yourself some festive decor, join us on Thursday, December 17th for a class that will guide you through your first ornament and get you set up to make more (the kit includes enough material – yarn and stuffing – for two ornaments).  And as if that wasn't tempting enough, we'll make sure you get at least one cup of delicious mulled cider to accompany your learning experience.
We're working on more kits as we speak including two featuring designs by the ever-so-talented Laura Chau, so if Christmas (or balls) ain't your thing, stay tuned for more curated combos of yarn and patterns.  And if Christmas is your thang, make sure your family knows this is on your list.