Autumn is coming and that means it's time for another knit/crochet-along! Cooler temperatures are on their way, and we're turning towards cozy and colourful projects to make before the snow flies. Which leads us to the theme for our next knit/crochet-along: COLOURWORK!
Pattern: This is a technique-based KAL, so any knit or crochet pattern that uses a colourwork technique as a valid option. For absolute beginners, we recommend stripes or colour blocks, while more experienced crafters are encouraged to try more advance techniques like fair isle, mosaic, or intarsia. Any technique that uses more than one colour is eligible, so let your imagination run wild! A two colour brioche scarf? An Icelandic cardigan? Argyle socks?!
Yarn: Any yarn purchased at Yarns Untangled!
Need some inspiration? These are some of our favourite colourwork projects lately:
Velvet Morning Cardigan, pattern by Julie Crawford
Yarn: Topsy Fibres in five colours
Technique: Fair Isle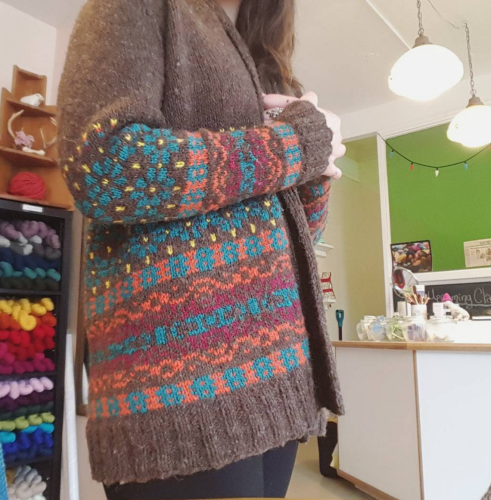 Sunshine, Lollipops, Rainbows, pattern by Nicole Tavares
Yarn: Cascade 220 Superwash, 7 colours
Technique used: stripes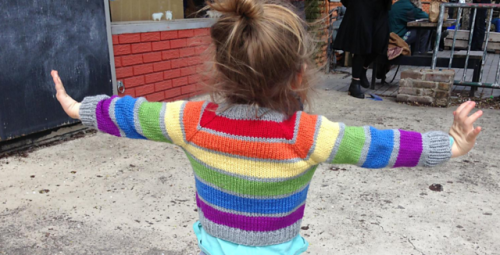 Campbell Glen Mitts, pattern by Kate Atherley
Yarn: Mineville Wool Project fingering
Technique used: Fair Isle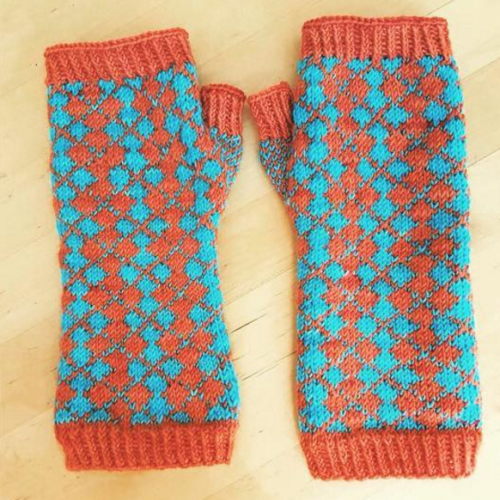 Emiliana, pattern by Lisa Hannes
Riverside Studios Fingering, two colours
Technique used: mosaic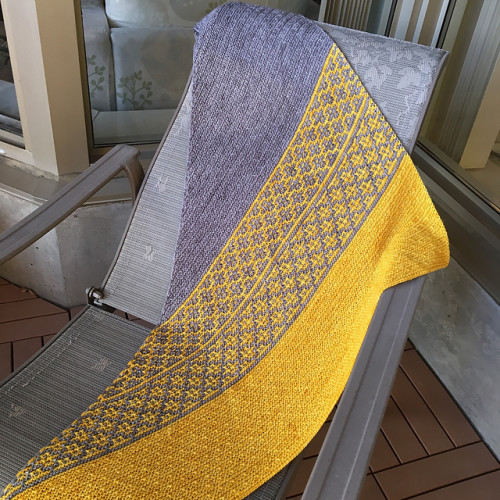 We would also like to draw your attention to Canadian designer, and friend of the ours, Kathleen Sperling.  She is extremely talented and has a particular gift for designing beautiful patterns that use more than one colour.  Check out her available patterns on Ravelry.
Schedule:
Start: Wednesday, September 6th, 2017
Sunday Drop-In Clinic (FREE for KAL participants): September 10, 17, October 1, 8, 15, November 5, 12, 19, 26.
End: Wednesday, December 6th, 2017 (3 months)
Prizes:
Most colours used on a single item: Why use one colour when you can use THEM ALL. Prize will be a $15 gift card for Yarns Untangled, and a Kathleen Sperling colourwork pattern of your choice!
Most finished objects: Want to knock out holiday presents early? The participant most finished objects will win a $15 gift card for Yarns Untangled, and TWO of Kathleen Sperling's colourwork patterns of your choice! In order to count towards your total a project should take 50 yards of yarn or more (so no passing that swatch off as it's own project, even if it feels like one!)
Best mess up and recovery: KALs can be wonderful learning experiences, so share yours with us! The person who learns the biggest lesson will get a coupon for a private lesson with either Brenna or Amelia.
The Random Draw: one winner will be randomly chosen from among the participants, see below for parameters. Prize will be a $10 gift card for Yarns Untangled.
Suggested classes (10% for official KAL participants):
Brioche Knitting with Kate, Thursday September 7th from 6-9pm
Introduction to Colourwork: Fair Isle and Intarsia, with Kate, coming soon
Double Knitting with Nicole, coming soon
Colourwork Christmas Ornaments, coming soon
Participation: In order to be considered for entry for prizes, and to receive discounts on classes, crafters must either join the Ravelry thread or post on Instagram (#YUColourworkKAL) and announce which yarn you'll be using. Once the project(s) is/are finished, you must post at least one picture of it. If you'd rather, come see us in person and we'll get a snap of it for you and help you to post it on Ravelry.
Hashtag: #YUColourworkKAL (use this wherever good hashtags are accepted)
Yarn: Crafters must use yarn purchased from Yarns Untangled, but it doesn't need to have been purchased during the time of the KAL. If you choose to use yarn purchased elsewhere, you are still welcome to stitch-along with us, but you will not be eligible for prizes or free drop-in clinic help.
That's it! If you have any questions, shoot us an email at info @ yarnsuntangled.com, give us a call at (416) 603-2338, or drop in and see us in person!