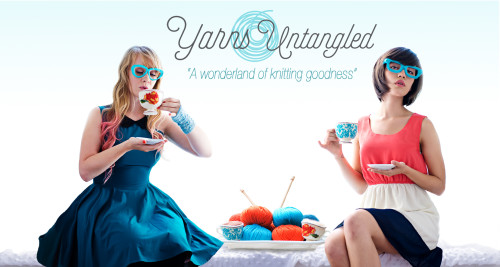 We've been working on it for months at this point, and we are thrilled to announce that the Yarns Untangled online store is now officially open!  While it is still bare bones for now, you are now able to purchase official YU kits and merchandise, all four of Kate Atherley's books, and a luscious collection of wool washes all from the comfort of your couch at home.  Over the next few weeks, we will be adding many of our best and brightest yarns to the collection as well.  We expect to be able to have quite a few of them listed before the end of this month.  Share it with all your friends living out of town to spread the YU love around!
At the same time as launching the store, we'd also like to present this whimsical image you see here – one that is also including the upcoming Ravelry ad campaign, which you should be able to see any day.  The beautiful photos were done by our good friend and collaborator Tru Ferguson of The Tru Portrait. For those that haven't had the chance to meet her at stitch nights yet, she is a fantastic photographer with infectious passion for wearable art and fashion. She was one of the first people we wanted to collaborate with when we decided to open the business, and since then we have been so privileged to have her dream up some images for our website and social media.
Her striking photo of Brenna and Amelia, with Brenna's colorwork knitted tea cups, was heavily inspired by Alice in Wonderland. Tru doesn't believe that knitters should feel limited by anything in their pursuit of creativity – you should dream bold. We couldn't agree more that knitting is without any constraints or rules! It is not just for winter garments – you can play with color, texture, shape and volume to create any whim you have.
Expect more of her inspiring work to be shown in our posts, and as we continue to publish patterns as Yarns Untangled on
Ravelry
 – she is the photographer behind them! You can find out more about her on her website at
www.truferguson.com
 and her instagram account, @
thetruportrait
.